Meet Neos is all about introducing decision makers, developers, designers and editors to Neos, answering questions they might have, and connect them with people who already have deep knowledge and experience with real Neos projects. In order to lower the barriers, the talks are usually held in the local language, which is in the case of Nuremberg (even though it belongs to Bavaria), German.
The Nuremberg edition of Meet Neos was part of the Nürnberg Web Week, which attracted an even greater audience who were curious enough to give it spin.
After the usual introduction keynote by Tobias Gruber and me (slides on Slideshare), Sebastian Kurfürst elaborated on content strategy, and why Neos works well with a content-first approach and multi-channel publishing.
The following coffee break finally deserved its name, because professional barista Bastian Reif produced fine coffee specialities from his La Marzocco machine. Even if you're not into internet and content management - the coffee alone was worth the visit :-)
The biggest highlights of the Meet Neos though were the various show cases. Real-world projects, with behind-the-scene insights were what many people in the audience gave a light-bulb moment. Several of them, who never have seen Neos before, were really enthusiastic trying out Neos at their next occasion, while discussing the cases during the next coffee break.
I also took the opportunity to show off some of the projects which had been handed in for participation in the Neos CMS Award. Great websites (even technically simple ones) with all kinds of integrations, to booking engines, shops and more (we'll present many of them in a revamped showcase section on www.neos.io soon). I also mentioned some well-known and lesser known usages of Neos: for example, 1&1 - the seconds biggest hosting provider - uses Neos CMS for managing content of their very own website www.1und1.de - and Volkswagen trusts Neos by launching an After Sales Fleet Management Tool based on the CMS.  

t3n counts on Flow Framework
A highly appreciated talk was yeebase media's CTO Martin Brüggemann outlining t3n's usage of Flow Framework as a technical backbone for their organization. Among other things, they created a custom ERP solution based on Flow, which is handling all of the orders, subscription management and more. Also, their recently launched company directory has been developed with Flow.
You can read a lot more about how t3n sees Flow Framework from the slides Martin published here.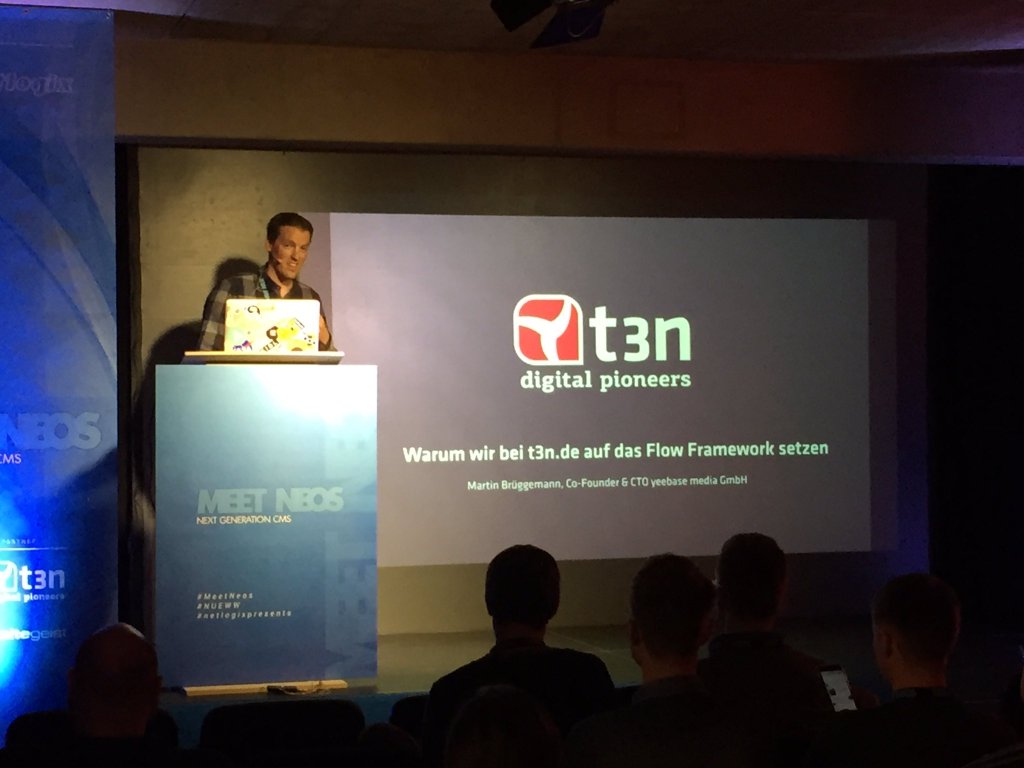 At one point, Mirko Kaufmann (Kaufmann Digital) spontaneously presented a showcase for Mangold International and likewise spontaneously brought his customer with him on stage. Tanja Rothammer, who is working with Neos on a day-to-day basis as an editor, was so enthused that she exclaimed "I just love Neos!".
Before the (cocktail) party started, Tobias and me again took stage and gave a last talk called "Ja, ich will" (yes, I do) which gave everyone a little overview of how the Neos project is structured and where you could get involved or get help while getting started with Neos.
In total, the event was a real success. I personally was surprised again how big an impact we can have by simply talking about what people are doing with Neos today. Definitely an event worth repeating.
Would you like to see a Meet Neos in your country or region? Or could you even imagine being the host for one of the next editions? Then please get in touch with the Neos Team.